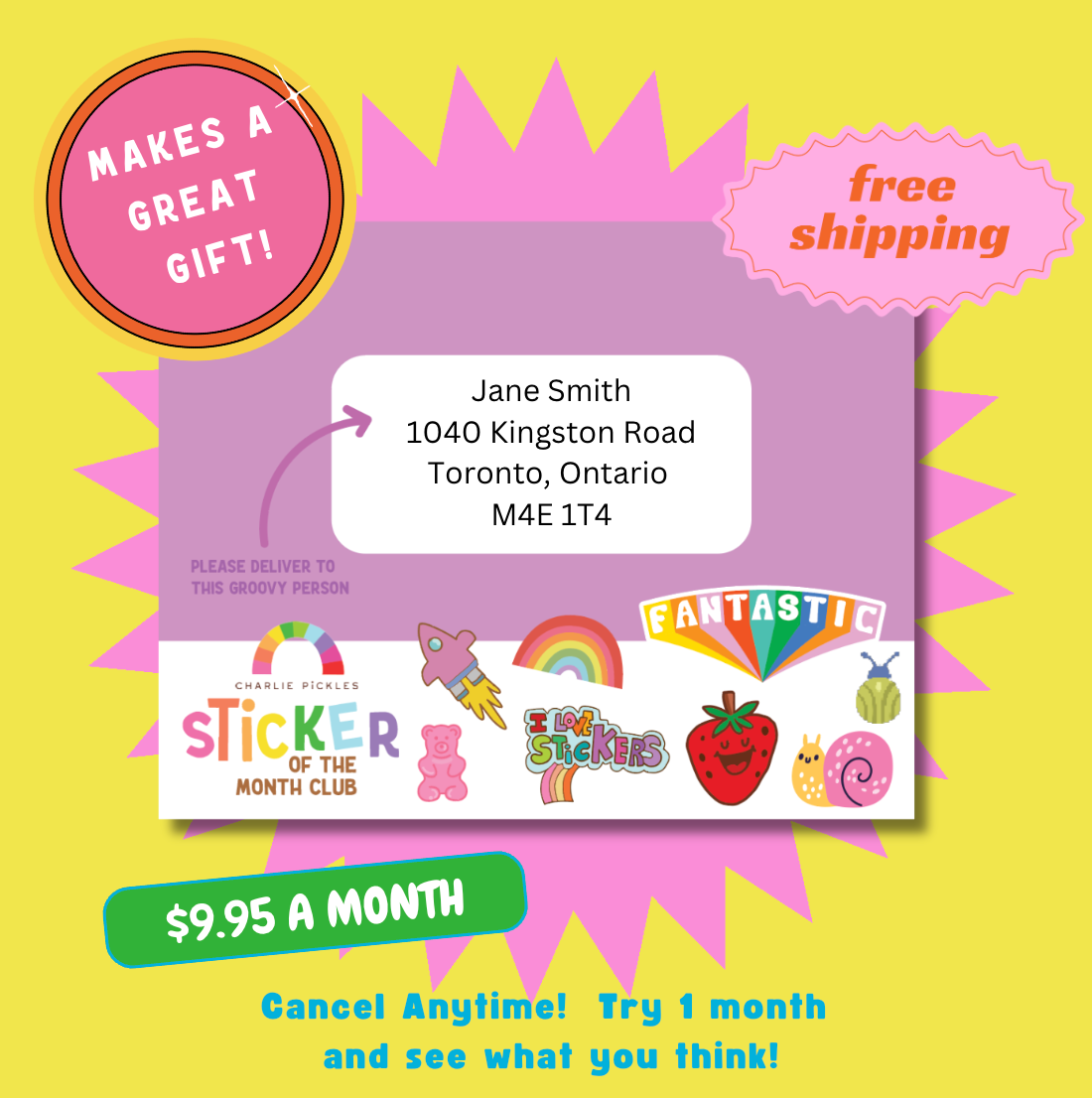 Sticker of the Month Subscription
Sign up for our super fun Sticker of the Month Club! This is the perfect gift for someone who LOVES sticker collecting or is looking for some fun mail every month. 

A MONTHLY MEMBERSHIP INCLUDES

1 x 5.5" x 7" Sticker of The Month Club Sticker Sheet
(10 to 30 stickers per sheet)

Each sheet is exclusive to club members and each month is a new theme. Each sheet has at between 10 and 30 stickers perfect for decorating your sticker book with, adding to your notebooks or adding to snail mail you send to loved ones!


1 x Waterproof Vinyl Sticker (Size varies)
Perfect for your Tumblers!
These retail for $4.00 and are found in our retail store 


A few more bonus stickers
(Because we can't resist adding some extras)


SHIPPING TIMES
You can order anytime in a month and you will be shipped that month's sticker sheet. For example. If you order on June 23, and you will get June's subscription. The next month's sheet will be shipped out at the beginning of the following month. 

SHIPPING COSTS 
There are no additional shipping cost as shipping is included in your subscription. Shipping is done via regular mail in order to keep costs low and accessible for as many people as possible.  
CANCELLATIONS
Ongoing sticker subscription charges are at the first of the month. You can cancel or pause anytime by logging into your account and changing your membership.  
If this is a gift: If you are ordering the sticker subscription as a gift we can send the recipient a postcard, letting them know that they have been registered for the Sticker Club as a gift from you, along with that months sticker sheet. If you would like a personal message included with that postcard, please indicate what we should write when you are in the checkout. 


*** IMPORTANT***
If you are ordering other items from our shop + the sticker of the month club, the shipping address you enter at checkout will be where you subscription goes. If you want 2 different addresses, please place 2 separate orders. Sticker subscriptions are sent separate from product shipments unless requested otherwise.